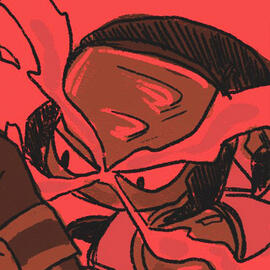 coldergeist
FANART PORTFOLIO FOR NAT CHANG
Current zine projects:
Katsukitchen Zine Volume 2 (mod, chef) [BNHA]Feasts for Beasts (mod) [BEASTARS]Goldmine (mod) [GOLDEN KAMUY]Problem Child (artist) [BNHA]Taberu (chef) [HAIKYUU]Hop Step Fly (artist) [BNHA]

Conventions:
TBD
Past Projects
(chronologically newest to oldest)
Motostoke Lifestyle (artist) [PKMN GYM LEADER KABU]Spark! (merch artist) [POKEMON]JJBA School Adventures (artist) [JJBA]Eri and Friends Zine (artist) [BNHA]Beyond the Darkest Day Zine (artist) [PKMN SWSH]Katsukitchen Zine Volume 1 (shipping & finance mod, pinch hitter artist) [BNHA]Iron Giant 20th Anniversary zine (artist)Voyage: Studio Ghibli Travel Zine (artist)Hunter x Hunter 2019 Big Bang (artist)Psychic Style zine (artist) [MP100]Waluigi collaboration (artist)Bromance zine (artist) [MIXED FANDOM]Great Days zine (page & merch artist) [JJBA]
Zine Moderator roles
Katsukitchen (COMPLETED 2019 - 2020)

Shipping, Finance, and Merch Mod

Responsibilities for Katsukitchen:
Budgeted for and priced 6 preorder tiers and 2 physical stretch goalsSet up Gumroad and Etsy storefrontsOrdered and shipped out zines and various merch items (prints, vinyl sticker sheets, bookmarks, coasters, acrylic keychains, button magnets)Updated zine Tumblr and InstagramHelped supervise team check-ins during creation periodDirected merch artists in creation period and proofed and set up files according to supplier templates as neededManaged email communications
Outcomes:
Successfully shipped zines to all pre-order customers, leftover sales customers, and all contributorsRaised over $700 in profit from zine sales, donated to The Hunger Project charity
Katsukitchen 2 (in progress 2020 - )

Shipping and Finance Mod

Responsibilities for Katsukitchen:
Budgeting and pricingManaging Etsy storefrontOrdering and shipping zines and merch itemsUpdating zine Tumblr and InstagramManaging email communicationsDirecting merch artists, proofing, and setting up files for suppliersReviewing artist applicationsProofreading and providing edit suggestions for fics and recipes so the instructions are clear and simple enough for beginner cooks to follow
Feasts for Beasts (in progress 2020 - )

Head Mod, Communication, Shipping, Finance, Graphics, Layout/Formatting

Responsibilities for Feasts for Beasts:
Budgeting and pricingManaging Etsy storefrontDirecting merch artists, proofing, and setting up files for suppliersOrdering and shipping zines and merch itemsUpdating zine Twitter, Tumblr, and CarrdCreating graphics announcements and Google Forms Creating handbook (FAQ, requirements for file submission) for contributors and modsManaging email communications and Google Drive filesReviewing applications for new mods, chefs, and artistsCreating cookbook zine layout for printProofreading and providing edit suggestions for chefs' recipes to fit page length while maintaining clear, easy to follow instructionsCreating and sharing zine proof with contributors before printing
Zine Illustration
Arranged newest to oldest:

Katsukitchen Bonus Zine cover, Eri and Friends, Beyond the Darkest Day, Katsukitchen 1&2, Voyage: A Ghibli Travel Zine, Iron Giant 20th Anniversary Zine, Psychic Style, Bromance, and Great Days
Illustration
These are personal illustrations. Click on the "Zine Works" button for more full and spot illustrations I've done for past projects.
2020 Artwork
2019 Artwork
Older Artwork
---
Short comics
Hunter x Hunter 2019 Big Bang
A collaboration with Caprichoso (AO3) for their fic, "In Contempt."
Tumblr link here!
Merchandise
Acrylic keychains, prints, stickers, buttons, etc.
WIPs, etc.
Works in progress, sketches